Reason for filming: Carl, who is still very much alive, is returning to the farm to film some behind the scenes footage for the DVD release of Paranormal Farm, Part 1
What's the horror: ghosts, cults
Does the dog die? As in the previous film, there's animals everywhere, but they're all safe. Two dogs do get into a fight, but nothing comes of it.
Gore factor: None
Re-watch scale: Heavy rotation. I love this series!
SPOILERS BELOW! Don't scroll if you don't want to know.
At the heart of the sequel to 2017's surprise zero-budget super-indie hit is a clever premise. We start part 2 just as we did in part 1, with Carl filming as he drives to the farm and explains what he's about to do. The movie he made with Darren and Lucy has had some success since being uploaded online, and Carl's got a distributor now who wants him to film some extras to include in its upcoming DVD release. And within moments of the movie's opening, Medland has essentially upended the entire premise of his original film.
*Side note: As much as I love to add as many screenshots and photographs as possible to my posts, the side-effect of having done this since at least 2011 means I have once again used up all my storage space. However the cost of maintaining all of this as well as expanding my storage to be able to continue uploading files is no longer cost-effective, so I am reduced to using links to photos from this point forward. That's not a problem with my own photos as I can link to them on my Flickr Pro page, which has unlimited storage, but when it comes to screenshots of films I am at the mercy of what I can find to link to publicly, and for these movies that's not very much. So there aren't as many screenshots of these films as I would like to have. Sorry.
Of course, we all knew PF1 was fake, no matter how convincing its found-footage feel; we just didn't expect the sequel to totally acknowledge that at all, much less in the first ten seconds. The foundation of any found-footage film is that it's just that – footage that was taken by others who experienced something horrible and then found by others who are now sharing it. So closely do found-footage enthusiasts attach themselves to this idea that many will eschew any movie filmed in this style that tries anything that takes it out of that realm – adding music, for example, or having multi-camera perspectives, or overly effective lighting. Paranormal Farm 2 doesn't break any of those rules; it's still filmed entirely on a cell phone, and incorporates no musical cues or other tweaks some FF films attempt to pull off (for the record, such flourishes don't bother me). But in a few sentences, Medland has managed to blow the entire conceit of his first film out of the water.
And so, having knocked down some the previous movie's mysteries, Medland sets up some new ones to explore, while quickly and handily taking care of the whole why-isn't-he-really-dead business in a pretty satisfying manner. Bringing a character who is clearly dead by the end of a movie back to life in order to film a sequel always requires a willing suspension of belief on the part of the audience, who usually accepts whatever explanation is provided in order to enjoy returning to the world of the original. But in blowing up the premise of his original movie, Medland actually creates a sequel with a surprising amount of depth most sequels fail to deliver. Instead of a movie that's a rehash of the first, with perhaps a bit more money thrown at it and a new cast, Medland goes in the opposite direction, revisiting the same characters but revealing the real people behind the false personas of the first film, while also continuing the spooky mood and taking the supernatural elements in a new direction. It's brilliant.
Not completely out of the water, though, as it turns out – we soon learn that there is something supernatural occurring on Darren and Lucy's farm, and there is a cult hanging around (although Darren will bristle at the word every time Carl uses it), and there was a young woman who disappeared in the area about five years ago; it just wasn't the farmers' daughter Jessica, who is very much real and also very much alive. And the rumor around town is that the young woman who died was mauled by a mysterious creature the locals call "The Beast."
The characters best served by this perspective are Darren and Lucy. In fact, it's hard for me to remember how off-putting and unlikeable these two were upon first viewing, because it doesn't take long at all for "Closer to the Truth" to reveal the downright loveable oddballs behind that façade. Lucy French benefits the most from this FAQ-style of character development; it's rude to point it out, of course, but the damage to Lucy's face is unavoidable. In the first movie, it adds to her creepiness, but it would be a shame to allow that perception to continue any further (although there's another film from 2013 that was filmed at this same location by Taz called "Crossland;" it also incorporates Lucy into its story and makes creepy use of her disfigurement, so I can only assume Lucy doesn't mind). Medland gets to work right away giving Lucy space to tell her story, which is that she was in a horrific car accident that smashed a whole side of her face, and it's now full of titanium and skin grafts and an eye socket that didn't get set right which makes it hard for her to see. She shows Carl some photos of her face in different stages of recovery with cheerful resilience: "You're smiling in all of them," Medland observes, to which Lucy replies, "Well, because I'm alive." Cut to a scene of Lucy rolling around on the floor barking with her dogs, and the redemption is complete.
Darren gets his chance too, when it is revealed that he used to be a stuntman with some world records under his belt. As I started to write this paragraph about Darren I decided to Google him and see if he was really ever a stuntman, and yep, he was, although the scrapbook pictures he shows Carl had me pretty convinced this was true already. He also apparently really did have a nervous breakdown after retiring, and wrote a book about the power of positive thinking and perception that is no longer in print. When, in the movie, Darren talks to Carl about this experience, it's a truly sympathetic moment. One minute he was this locally famous guy jumping over things on a motorcycle, and the next he was just another unemployed one. "I felt worthless, basically," he tells Carl, and there's something shocking about the stark honesty of this admission that's quite endearing. In "Closer to the Truth," Darren and Lucy are no longer the antagonists of the story; they're more aligned with Carl in trying to discover the truth about the supposedly real haunting that is still taking place on their farm.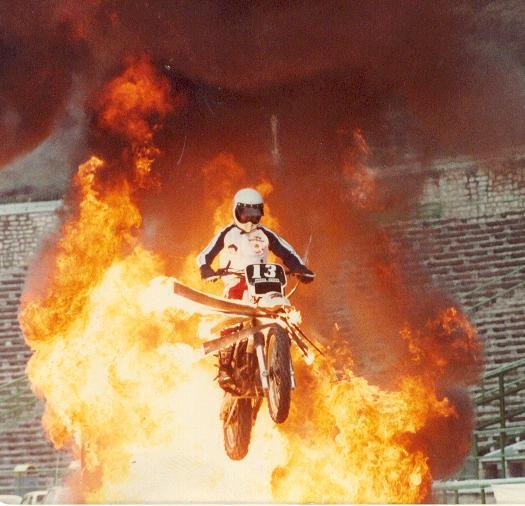 Although, not entirely. Lucy is pissed at Carl for how she was portrayed in the first film, and she has to get that off her chest eventually. "You humiliated me," she lectures him, in another super-meta moment. And Darren gets pretty testy with Carl several times, especially when Medland refers to the gathering of friends he has who meet out in the woods around a campfire on occasion to "send the beast back through the gate" as a cult. It's not a cult, Darren insists, just some friends who don masks and chant around a fire every once in a while, to which Carl logically responds, "I don't see the difference between that and a cult." Indeed.
Medland also adds some new characters into the mix here, which is a wise choice to keep the sequel moving. The producer, Mumtaz Yildirimlar, who goes by Taz, meets up with Carl at the farm to help him film DVD extras. The pair have great chemistry, and Taz is a proper foil for Carl who helps flesh out his character; Taz's good-natured silliness often clashes with Carl's perfectionism, and reveals Medland as the more rigid and controlling of the two (although he's still charming and funny throughout). And Taz is even more spooked by the supernatural than Carl is, if that's possible, and Carl regularly has to push him to stay in the mix. For example, when Carl gets the idea to hold a séance to try and contact the spirit of the dead girl, Sarah, Taz wants to sit that out because he is terrified of such things. This prompts quite the lecture from Carl, who insists that Taz is there with a job to do, and therefore, he needs to show up for everything. "He promised me he wasn't going to do this," Taz says into the camera, but ultimately, he shows up.
No one is, in fact, very thrilled with Carl's séance idea, but Carl has encountered another new character while out riding Lucy's horse, Tia – Sarah's father, Robert French, and he's convinced the man has something to do with Sarah's disappearance. Carl's interview with Robert is sufficiently creepy – he's clearly still haunted by Sarah's death, he's hurt that there's gossip in the town that he had something to do with it, and he keeps caressing the photo he holds of Sarah as a child in a manner that Carl finds "darkly disturbed." And even though Lucy insists Robert is a stand-up guy, a "gentleman's gentleman," as she puts it, Darren has a different perception, telling Carl that Robert was not the best of fathers and making it clear he doesn't like the guy. All of this piques Carl's curiosity to the point of insisting on the séance that no one else wants, and while it is successful in contacting Sarah, it also pisses everyone off, and soon Carl is on his own.
But before we get to that, though, as it sets up the final act, let's address the question – is the sequel actually scary? We have some motifs from the previous film that show up again – those creepy mannequins are still around, doing creepy mannequin things. The plasma ball lights up without provocation, and lights still flicker off and on. And all the animals on the farm start acting oddly as soon as Carl shows up, including Lucy's adorable dogs, who take to scrapping with each other so much that they end up in muzzles. Oh, and a rooster attacks Carl while he's on Robert's property, which leads to some amusing dialogue: "I got attacked by a huge cock," Carl tells Taz, "I think I need stitches," then pulls up his pants leg to reveal the smallest rooster-wound ever known as Taz explodes in laughter. So, while the hauntings here are often tempered with humor, "Closer to the Truth" still manages to spook.
The majority of scares are reserved for the final act, though, as much of "Closer to the Truth" is about humanizing Lucy and Darren, and discovering what Taz and Carl can about the mysterious "beast" lurking around in the woods near their farm – some more investigation reveals that it's most likely a large panther, which, while not exactly a supernatural monster, is still a big threat to any animals or humans who might cross its path. As Lucy keeps insisting, this is how it is in the country – there are predators about, and sometimes those who attempt to coexist alongside them end up being prey, as is believed to be the case with Sarah, and you either accept that or move away if you can't handle it. Another fact of country life that Carl and Taz learn the hard way is that you really, really shouldn't trespass on other people's land: while out in the forest investigating "the beast," they come across two farmers who don't take kindly to seeing strangers on the property with a camera, and there's a tense albeit hilarious car chase that ensues between the filmmakers and some deliverance-style hunters who ride up alongside of them and point guns at them through their open windows while Taz screeches in what can only be described as "like a girl."
When Carl, in his usual melodramatic fashion, relays this experience to Lucy, it's quite fun to watch her and Darren blow it off as just another fact of country life; if she'd had a gun and seen two strangers stalking about on her property she'd have pointed it at them, too, she tells them – and after checking out "Crossland" I recognize this as a callback to that movie, as it's the entire point of that film. Also filmed on Lucy's farm, she plays a far more malevolent character who basically murders anyone she catches trespassing, and also rants at one point about how anyone who ventures "off the footpath" deserves what they get – which is the exact line she uses on Carl and Darren, albeit with much less venom.
Some more Googling actually located the farm where both "Crossland" and the "Paranormal Farm" movies were filmed – it's a real farm, owned by Lucy, and it rents out space to campers and RVers in the area. It actually gets great reviews, and Lucy is often mentioned as a perfectly delightful and accommodating host, so while there's truth to Lucy's ownership of the farm, her malevolence is all an act, just so you know. Indeed, my fondness for Lucy led to me actively rooting for her while watching "Crossland" (which was written, produced, and directed by Taz) even though she's clearly the antagonist in that film. But I digress.

Darren stops the séance before the spirit can fully spell out the name SARAH, and Carl leaves his phone charging in the room so he can spy on Darren and Lucy's conversation. Lucy, – who appears to have been hitting the box wine again, god bless her – keeps insisting that there's no reason to investigate Sarah's death as it's all over and done with and everyone has moved on. Darren hints to her that there's more to it than that, but it was long ago and he doesn't want to relive what for him was a dark time. Lucy, perhaps due to the wine, doesn't appear to catch what Darren is hinting at – that he knows something more about Sarah's disappearance – and eventually Darren drops the conversation and they both wander out of the room.
When Carl goes up to Jessica's bedroom, where Taz is waiting, to relay what he's heard, the plasma ball from Part 1 lights up again on its own. Soon Carl is communicating with the spirit again, which at this point he's convinced is Sarah, and he feels guided back into the barn (at least I think it's the barn; there are many buildings on the farm and it's hard to tell what's what) where he discovers a real Ouija board. Carl is convinced this means Sarah really wants to communicate with him, so in spite of Taz's reservations they head back to Jessica's room to use it. While doing so, the lights go out on their own, and Carl hears a voice whisper to him "don't go through the gate." Taz freaks out and leaves the room, and soon after that Darren comes into the room and freaks out that Carl is still holding seances after being explicitly told to knock it off, and he kicks both Taz and Carl out of the house.
But not right away – he is kind enough to at least let them stay the night and pack up their things in the morning. But what at first appears to be a last act of generosity takes a sinister turn, when Carl is awakened from sleep by – you guessed it – someone in a creepy clown costume filming him with Medland's own camera. Carl flips out and charges out of the room and down the stairs, with creepy clown and camera close behind. We are guided down the stairs via the camera's perspective, and as we turn a corner we see Carl sitting at the head of the kitchen table, held at knife point by another dude in a clown mask who is also, inexplicably, wearing a superhero costume. He's surrounded by other clown-mask wearing creatures. "Tseab, tseab, tseab," they all chant, which Darren has already explained is "beast" spelled backward. Soon the truth comes out – the cult killed Sarah (why? who knows), and if Carl doesn't leave immediately he'll be killed too. Carl convinces them to give him back his camera and tries to get more of a confession out of the men, but they leap up from the table instead and charge him, which forces Carl to take off.
Another chase scene ensues, during which we can hear at least one of the cult members (I mean gathering members, sorry Darren) telling Carl to "go back through the gate," and that's the last reference that will ever be made to said gate so figure that out for yourself, I guess. No matter – because soon Carl manages to run to a neighbor's house and bang on the doors, but it appears no one's home. Then Carl hears some commotion and hides in a dark space on the side of the house, grabbing a rake to defend himself. He hears something approaching, and steps out from the shadows to stab whoever, or whatever, it is, and we soon see that he's accidentally shoved the rake into the gut of Taz, who falls into a swimming pool. A creepy clown is right behind him. Both the creepy clown and Carl take off, leaving poor Taz behind impaled on a rake, and it always cracks me up to hear Carl yell "I'll be back, Taz!" as he runs off, leaving Taz to fend for himself. So long Taz. We barely knew you.
Carl has to run back into the house to grab his keys, which he does with much panic and mucho shenanigans from the mannequins, who keeps popping up in doorways ever closer to Carl at every scare. He ends up having to run right past one of them to escape (which totally reminds me of a scary clown mannequin scene in Hell House, LLC, albeit probably unintentional), but escape he does – only to end up getting squelched by some weird costume-wearing dude standing out in the middle of the road after Carl (still Taz-less) hops into his car and starts driving away. For reasons unknown to me, Carl gets out of the car with a flashlight to get a closer look at this weird character, who suddenly sprouts wings that fold around Carl as the camera goes dark. The closed-captioning simply interprets the final audio moment as "squelch." The end.
So there it is. The end to both Carl and Taz, and the end of the mysteries of the Paranormal Farm. Or is it? Stay tuned for part 3.