Reason for filming: Carl and Taz, who are – you guessed it – still alive, head back to the farm to convince Darren and Lucy to sign a contract they still need to get on file so they can use the behind the scenes footage they shot during Part 2
What's the horror: ghosts, psycho killers
Does the dog die? As with the others in the trilogy, no animals are in danger here
Gore factor: None
Re-watch scale: Heavy rotation. While ultimately Part 2 is my favorite of the three, they're all great.
So, here we go – Carl and Taz are back, and Part 3 starts as did Parts 1 and 2, except that this time they're heading out to the farm at night instead of in the afternoon, which starts things off on a more somber note. We get a few hints at how it is that, in spite of appearing to meet their end at the hands of Darren's death-gathering (remember, it is NOT a cult) at the end of Part 2, they have both managed to live on and film another sequel, but the full story won't come out for a bit, so I'll wait to share that information.
As it is, the two arrive at the farm just in time to hear Lucy screaming from the now-familiar farmhouse, and as Taz and Carl rush inside they find them both being attacked by their own mannequins. Carl manages to free them while Taz films the entire ordeal. And no, we still don't know exactly why it is that all these dummies surround the house, and guess what, we never will. Moving on.
Darren tells them the mannequins have been acting up quite a bit lately, and he has no idea why. While this conversation is taking place, we can hear Lucy hacking and gasping in another room dramatically, and one of my biggest joys in watching the final installment of this series is watching how much Lucy French really digs into her role, hamming it up at every opportunity. Gone is the freaky, tipsy, sullen Lucy of the first film. In her place is a woman who is tense and upset at all the supernatural activity that's still occurring on her farm, and who is also starting to get more than a little miffed at Taz and Carl for failing to help rid of the place of evil spirits.
It's a new twist thrown into the mix in Part 3 – we got a taste of Lucy and Darren's irritation at the guys in Part 2, when Lucy snaps at Carl for how she came across in the first film and Darren keeps bristling at Carl every time he calls his group of clown mask-wearing fire-chanters a cult. And both of them reveal a deeper sense of frustration this time out, which has led more than one reviewer to wonder how much of that is for the movie and how much of it is real – are the owners of the farm simply sick and tired of making these movies, or is that all for show? It's one of the delights of this series that the audience never knows – but my guess, based mostly on Lucy's commitment to her character, is that it's mostly for show. She really seems to be having a good time here, even when she's supposed to be traumatized.
Darren, however, is testier than Lucy is overall, which is why at the end of Part 2 he asked his "gathering" of beast-casters to scare the shit out of Carl and Taz. That's right – it turns out that the entire cult attack of Part 2 was just a ruse Darren pulled together to get even with Carl for continuing to conjure Sarah's spirit after he explicitly told him to stop. Obviously it got out of hand – Darren never intended for the guys to get chased with machetes, and he certainly didn't intend for Carl to stab Taz with a rake; he just wanted to get Carl back for disrespecting his requests that they stop the spirit-conjuring. And thanks to some backstory from Taz, we learn that right after Carl ran off another of Darren's buddies removed his clown mask and pulled Taz out of the swimming pool before getting him help. As Taz describes this, he side-eyes Carl, who tells him "I really can't apologize for it anymore," indicating that there's been more than one conversation about this since it happened.
While it's clear that Taz has forgiven Carl, it's also clear that this time out everyone is tense. Carl, focused on his film as usual, jumps right into a conversation about getting those contracts signed as they all sit down to dinner, and both Lucy and Darren avoid the subject by reminding Carl that there are still bad things happening at the house, and in spite of all the time he's spent there he hasn't helped them solve any of their problems. Carl backs off the contract talk, and in spite of all the tension between them they manage to have a nice meal. There's definitely a kinship between them all by now, but along with that is more honesty about how everyone truly feels, and it plays out almost like a family drama throughout the film.
And there is a family drama here, although it takes a while to get to that. For now, Lucy and Darren don't want to sign the contracts without a guarantee that Carl can help rid their farmhouse of spirits, and even though Carl thinks he's proven his gifts to them already, the couple wants more assurance. Lucy takes off one of her rings, slaps it down on the table, and demands that Carl make it move with his mind. To say this is a weird request is an understatement; we've never seen any signs of telekinesis from Carl, so where this idea comes from is a mystery. Carl is similarly confused, and starts to explain in great detail to Lucy what his gifts are – as an empath, he gets in touch with spirits through emotions and feelings on another plane and doesn't have any real skill in the telekinesis department – but as he's doing this, lo and behold the ring scoots across the table towards him on its own. Everyone gasps, and Darren and Lucy immediately sign their contracts, convinced now that Carl is legit. Carl and Taz, however, have no idea how that just happened. Taz wants Carl to start moving other items with his mind right away, but Carl resists. It has to have been a fluke, he reasons, since he's never done such a thing before. We'll get back to that later.
Carl and Taz set out in the dark to check out other areas of the farm to see what energies they can pick up on. My favorite part of this scene is when, after encountering more orbs in one of the barns (or attics or something, I can never tell) Carl says that they should contact a paranormal investigator about them. "You are one," Taz reminds him. Hee hee. We get some good scares as Taz and Carl investigate a stuffy loft – an overhead light keeps swinging harder and harder at the other end of the room, and at one point some sort of figure rushes quickly past, scaring the crap out of everyone. Carl swears he sees a shadowy figure leaping over a fence, too, but by the time they get down there, whatever it is has gone. Still, we're off to a good start.
Cut to later that night, and Carl, Taz and Lucy are taking it easy in the spa. It's a great moment; watching Carl and Lucy relax in the bubbly water makes us all feel right at home, and reminds us how much we've come to love just hanging out at the farm with Lucy and Darren and familiarizing ourselves with their strange, quirky ways. Then a light goes on, and a shadow is seen; everyone's fairly calm by now, as nothing bad has happened during their little pool party, so Carl isn't particularly concerned as he pulls back the tarp's flap, but he steps outside and immediately starts screaming. Taz and his camera go rushing outside to find Carl standing there in his Speedo, covered in blood. Taz looks around for what might have done this, but there's no one else there. It turns out not to be Carl's blood that's all over him, thank goodness, and with no leads to go on everyone shakes it off and turns in for the night.
The rest of the night is uneventful, and it's clear the next morning that Carl and Taz are feeling more at home on the farm now, as seen by the way Carl hides around a corner in order to jump-scare Taz as he comes out of the bathroom, and how Carl casually grabs a random kitchen knife and wanders around muttering "Yah! Yah! Come get me!" But the jocularity ends when Carl and Darren walk into the kitchen, where they'd both been just a few minutes prior, and everything has been upended. All the cabinets and drawers are open, and stuff is thrown about everywhere. There's even a putrid rat on the kitchen counter, and Darren's had enough. He lays into Carl for spending all his time filming and screwing around instead of using his psychic gifts to help them out, and stomps off. Carl gets the message that he and Taz have become just a bit too comfortable at Darren and Lucy's, and they need to buckle down and get to work clearing the farm of whatever's doing all the haunting and blood-smearing.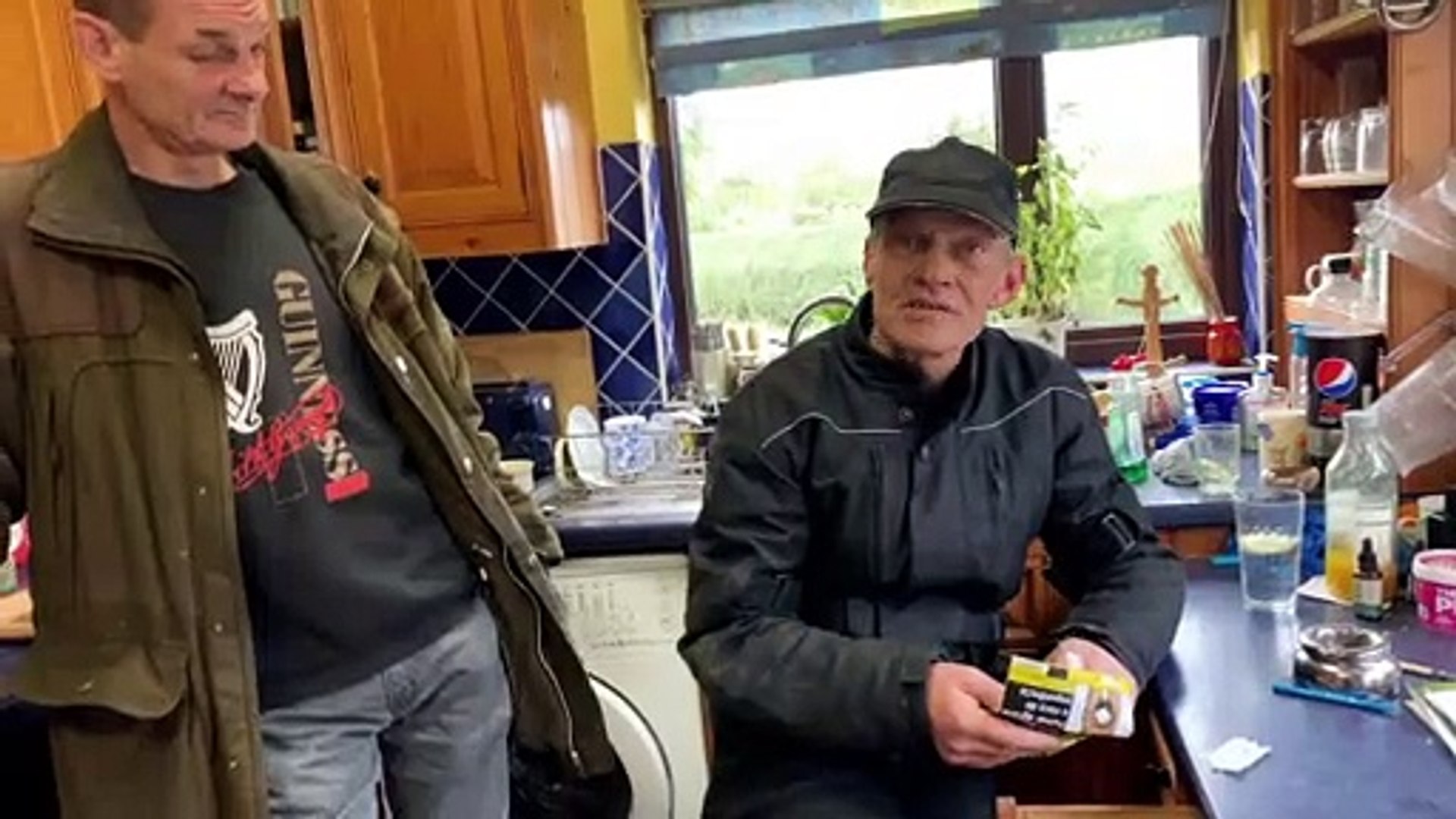 Carl and Taz head out to try and interview some random people around town. Instead, they find something black and furry scampering around in some brush – at first it looks like a dog, but when it turns around and starts charging towards the guys I actually yelped a little; it really looks big and hulking, whatever it is. The camera snaps off as they run away, and pops back on as they wander through through an empty house, exiting through a back door into a lovely garden. There's a woman sitting on a bench outside, and Taz and Carl approach her to warn her about "the beast" they just saw bounding about in the brush. Like the other locals they've encountered, this woman seems unfazed by the news, and it takes Carl and Taz way too long to figure out that she's blind. It turns out that she's a psychic, as well, just like Carl, and she picks up on his gifts right away as he leads back into her house.
Well, she's not quite like Carl. She hasn't used her gifts in years, and she hints at some past trauma that might be why that is, but doesn't name it specifically. She does name what she senses is Carl's gift, though – moving things with his mind. Soon enough, another visitor wanders into her house – it's Robert, Sarah's father from the second installment, and it turns out he's this woman's ex-husband and Sarah's mother (In the cast list, she is known only as "the spiritualist," so I don't have a name for her – incidentally, "The Spiritualist" is the title of another Carl Medland movie, and in that movie Caroline Burns Cooke plays a character named – you guessed it – "the spiritualist"). It's clear she can't stand Robert, and for me this is the only part of the movie that drags. The woman who plays the spiritualist is a great actress, but she's so scattered and melodramatic that it's almost uncomfortable, and it seems her hatred for Robert is made clear in the first one or two minutes he's there and the rest of that time is just overload. To be honest I usually just fast forward past this section, which lasts about fifteen minutes.
Finally Carl gets them both to agree to hold a séance that night, and sure enough the ghost of Sarah shows up. Once again, the spiritualist is so fragmented – she rarely completes a sentence – that it's hard for me to follow, but the closed captioning helps: she can feel Sarah, but there's something evil in the way that prevents her from being able to communicate with her daughter clearly. There's a nice little jump scare when some costumed kids show up banging on the door for trick or treating, as it's Halloween, and after everyone calms down Carl tells the camera "I'll go get them a banana," which cracks me up.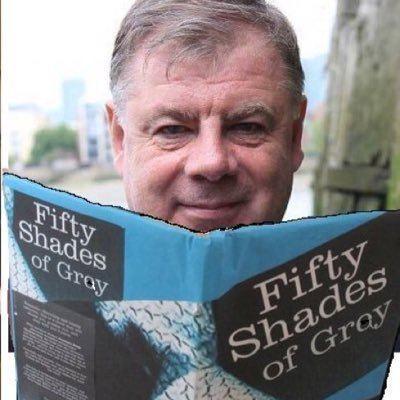 The next day, based on what the spiritualist tells Carl about his ability to move things with his mind, he tries one more time to consciously unscrew a nut from a bolt that Taz gave him earlier – and yes, there are many screw jokes thrown in for good measure. He settles down and concentrates. And sure enough, the nut winds off on its own. He also makes a coin move across the table. It's a cool effect, and after he's done Carl's fingers start smoking. "Taz, it's not good to smoke!" he quips, wondering aloud if he's about to internally combust. He does not. But the point is – Carl can move things with his mind. This will be useful later.
The next morning, the team sets up a trap to capture the beast, using a big hole dug into the ground by covering it with a tarp and placing some of Lucy's animal baits on top of it. It's not super-clear what the plan is here, but before we can figure it out Carl and Taz go back into the house and discover a woman in Jessica's bedroom, where Carl is staying. It turns out to be Jessica herself, and she's popped into town to surprise her mother with a visit.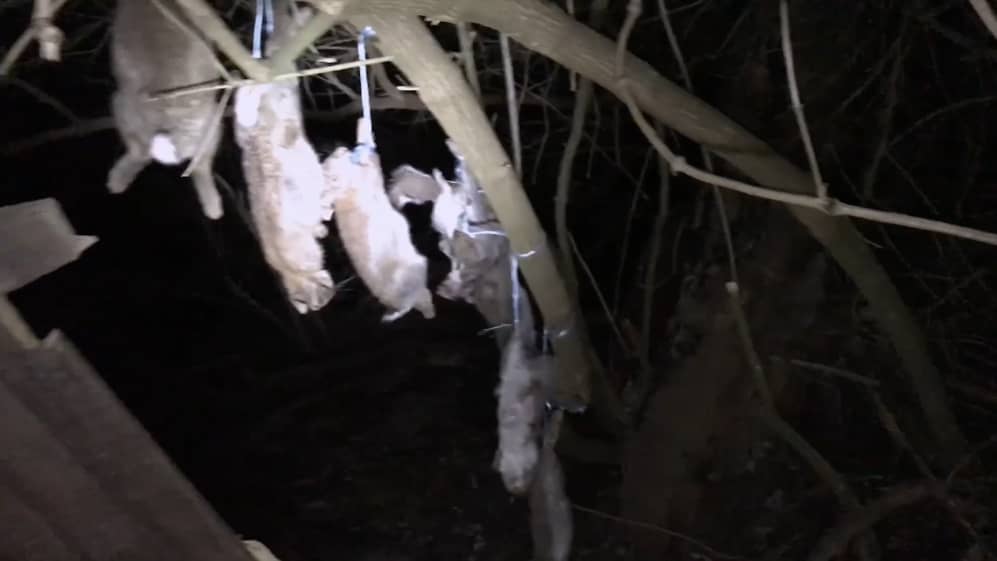 Jessica says a few strange things during this encounter, the strangest of which is her claim that her mother has been sounding tired lately, and stressed, and that they need to be careful not to overtax her. Yes, Lucy, who we've seen mowing and chopping and horse riding and dog feeding and stable cleaning and cooking and basically never sitting down for more than five minutes over the course of two and half whole movies is easily worn out, it seems, and I don't believe that for a minute. She appears to be one of the healthiest people on the planet, and she regularly wears both Carl and Taz out with her energy, even though she's clearly 20 or 30 years their senior. Jessica also asks the two repeatedly how much longer they will be filming, pushing them to say they'll be done by the end of the day, but Carl stands his ground and says they need more time.
Carl and Taz head outside to speak with Robert, who is lingering over Tia, Sarah's favorite horse. Then Jessica appears again, as if she's following them around, so it's surprising when she pulls Robert aside for a private "catching up," as she calls it. The two walk off to the barn, and Taz and Carl return to the bedroom, where Carl takes the crystal ball the spiritualist gave him and starts staring into it, unintentionally causing a large package to fall to the ground from the top of Jessica's closet. It's a package she was stuffing up there right when Carl and Taz walked into the room earlier. Carl looks at it for a moment, then rushes back outside to the barn with Taz confused but in tow.
And here we go. Medland's ready to knock down the various pins he's set up over the course of the movie, and he and Taz get right to it. They overhear a conversation between Jessica and Robert that confirms they had an affair years ago, and Jessica is not happy that Robert's moved on. Yikes. Jessica sees the two hiding behind some hay bales, grabs a knife to chase Carl and Taz off, but Carl is undeterred, and he marches right back into the barn where Jessica and Robert have gone and confronts her. She was saying something about Sarah when he walked in, and he wants to know what it was. Then the spiritualist walks in, for some reason, and Jessica flips out, asking Robert if he's betrayed her by getting back together with Sarah's mother, holding the knife to Robert's throat. Carl decides it's time to let his telekinesis powers fly, and he starts screaming at the top of his lungs, which causes the entire barn to shake and barrels and hay bales to fly around. Everyone surrounds Jessica, including Robert, and she finally admits to killing Sarah herself because she was threatening to out her affair with Robert.
Much drama ensues. Robert screams at Jessica. The spiritualist screams at Robert. Jessica screams at everyone. Then the best part of the entire series happens, in my opinion – Lucy comes in and really lets rip, and it's right out of a soap opera. "Yeeeeew bitch," she drawls. "How daaaaaaare you! You call yourself my DAUGHTER?! After all I've done for you?!" It's delicious. I love Lucy. Lucy French, that is. Jessica blames Lucy for the whole thing, telling her that her father (who isn't Darren, by the way) was abusing her, and Lucy ignored it, which is why she killed him, too. Dang. Jessica's gotten away with a lot of murder. But not anymore, because Taz proudly proclaims he's gotten the whole confession recorded, and with that, he and Carl pack their bags to get the hell out of that madhouse. But before they leave, Taz asks Carl how he knew what was up with Jessica, and Carl pulls a black furry costume out of the package that flew off the top of the closet earlier. Jessica was the beast who covered Carl with blood the night of the spa.
From the way they rush away, and how relieved they are to be out on the road and away from all that drama, it seems clear there will not be a Paranormal Farm 4. And anyway, Carl gets a call from Hollywood while they're on the road, and it appears they're on their way to California to film a documentary of a haunted house. Welcome to America, Carl and Taz!
Each installment of this series has more structure than the last, and Part 3 definitely is the least spontaneous of the bunch. While this makes "Halloween" more plot-heavy and intentional, which leads to some lags here and there, it's necessary if Medland is going to give his trilogy a satisfying conclusion. Though the addition of even more characters here means some of the unity and cohesiveness the core cast has established gets diluted, it actually makes the dramatic conclusion easier to accept. We're not left wanting another installment, because the whole thing's gotten way too messy this time out, and everyone is good and tired of each other by the end of it. In fact, we don't even see Carl and Taz tell Darren and Lucy goodbye, and Darren in particular barely registers in the final moments. If that makes you feel sad and nostalgic for the simpler times of Parts 1 or 2, well, you can always go back and start the whole thing over. It's what I always do. 🙂